Blackhead Remover Pore Cleaner Vacuum Suction Tool
$29.99
$69.99
SAVE 57%
 FREE Shipping Worldwide!
YOUR BEST PARTNER TO REMOVE BLACKHEADS AND LOOKS GORGEOUS

Blackheads are composed of dried sebum (oil) and dead skin cells. If blackhead left untreated they can lead to skin infection, irritation and discomfort. When we pick and prod our skin to "pop" the zits, we cause unappealing blemishes, redness, and open sores that collect more dirt and bacteria. To make matters worse, all that damage only removes the top layer of the blackhead from the pore leaving the majority of the blackhead deep below the skin.
Blackhead Remover Vacuum is the best way to fight with newly pop acne & blackheads. You easily remove blackheads using gentle micro-suction technology. It has the capability of stronger suction and deeper cleansing of the skin.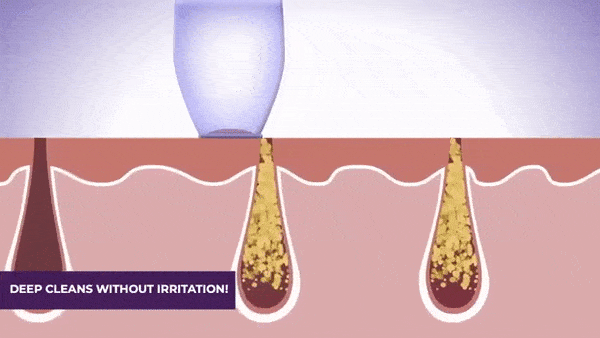 What does this Blackhead Remover do?
Remove Blackhead

Deeply clean your face

Removes dead skin and oils

For acne, pimple skin treatment

Your face looks fresh & younger
EFFECTIVENESS AND SAFETY
Blackhead Remover Vacuum uses innovative vacuum technology without hurting your skin. This technology is more effective and easy to use than a facial mask or acne needle.
Tips:
✔ Please don't suction on the same area all the time, it will make the skin swell.
✔ Before using the product, use hot steamer or hot towel or blackhead remover gel/cream on your skin for 5 minutes to completely open your pores first to ensure the best performance of the product.
Package Included:

✅ 1 x Blackhead Remover Vacuum
✅ 5 x Removable Suction Cup
✅ 1 x USB Charge Cable
✅ 1 x Facial Cleansing Pad
✅ 1 x Pack of Isolation Pads
✅ 1 x User Manual
Reasons to Buy From Us:
✅ 100% Money-Back Guaranteed.
✅ No

 

hidden fees!
✅ Tracking number for every order
✅ Safe payments via Stripe® & Paypal®
✅ 24/7 assistance help@rabbitquick.com
✅ Customer Service Number -

 

+1 888 402 2060
Estimated delivery time 7-14 business days